NOTE: Online consultations are not intended for urgent matters. This includes all patient-specific PEP inquiries. Our services are for U.S.-based providers only.
For immediate assistance:
Contact the PEPline at (888) 448-4911 for advice on bloodborne pathogen exposures
9 a.m. – 9 p.m. EST, 7 days a week. Note: Our hours have changed.
Contact the Perinatal HIV Hotline at (888) 448-8765 with perinatal cases
24 hours, 7 days a week
Contact the PrEPline at (855) 448-7737 for advice on pre-exposure prophylaxis management
11 a.m. – 6 p.m. EST, Monday – Friday
Register for easy access to expert advice online
You can initiate non-urgent HIV management consultation online using the CCC's electronic Clinician Consultation Service (e-CCS). By registering for e-CCS, you'll have access to quick case forms for HIV management questions, plus your cases will be archived for you to reference at any time. Receive the same experienced and practical support as you do on the phone, only on your own time. If you have previously contacted the CCC for consultation by phone, please send us your current email address by clicking here. The CCC will provide you a unique registration code to connect you to your existing CCC cases. New users can register directly using the button below. Our consultation services are for healthcare providers only.
Why you should register for e-CCS consultation online:
Review responses on your own timeline
Receive written advice from expert clinicians
Securely maintain case histories or ongoing case management advice in our database
Call for additional support whenever you want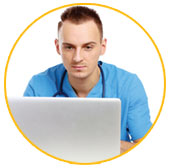 "Your expert knowledge is invaluable, and now I can track a patient's progress through multiple consultations. Thank you!" – Illinois MD
What your account will look like:
What to expect:
Once you register for an account with a valid email address, you will receive an email confirming that your e-CCS account is active. Log in with the information you provided using the link in the email, or from any page on our website. Please note that your email address will be kept private. It will not be sold or distributed for commercial marketing purposes. It will be used to respond to you, to address issues you or a consultant identify, or to request feedback on Center activities.
After logging in, you will enter information within our secure database on the nature of your inquiry. You will be asked to complete a short case form that will help our consultants respond appropriately and completely to your question. Online consultations are not intended for urgent matters. This includes all patient-specific PEP inquiries.
You will receive an email confirming that you have successfully completed the case form. A CCC consultant will respond to you within two business days. Please note: e-CCS hours are Monday – Friday, 9 a.m. — 8 p.m. EST.
For any consultation request that develops beyond information our consultant can provide you online, you will receive a request to transfer the inquiry to a telephone call. CCC provides evidence-based education to clinicians caring for people infected with or exposed to HIV and other bloodborne pathogens.
Please note: Salesforce is making changes that will increase the security of data that you enter using your web browser. Starting 3/4/17, to connect with Salesforce, you will need to use an up-to-date web browser that complies with the improved security standards. If you update your internet browser on a regular basis, this should not affect you. You may click this link to test your browser ahead of time. If you are able to view the test site without errors, access to Salesforce via your browser should not be impacted by this change, and no action is required. If you experience errors, you may need to update your browser to make sure it is compatible with TLS 1.1 or higher. If you need assistance, please contact the CCC Support email at support@nccc.ucsf.edu.

The Clinician Consultation Center provides evidence-based education to clinicians caring for people exposed to or infected with HIV and other blood-borne pathogens. CCC consultations are based on information provided by the caller without the benefit of a direct evaluation/examination of the patient, and as such, do not constitute medical advice, are intended to be used only as a guide, and are not to serve as a substitute for medical judgment. Healthcare professionals should exercise sound clinical judgment and individualize patient care based upon the patient's condition.