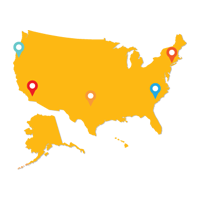 Our compendium summarizes legal guidelines for HIV testing. These laws and policies can vary from state to state. Use this overview to find information for your practice.
PLEASE NOTE: This resource is no longer up to date.
The CCC is no longer able to maintain the Compendium as a reliable state-by-state reference for current laws, regulations, policies and guidances. We do not have the funding to support the extensive effort required to research, validate and document extensive new information released each year. Therefore, the use of this document should be limited to providing an overview as to what the laws were at the time of last update. Each state document contains a listed date of last revision for your reference.
It is our hope that the Compendium can still be useful in learning about HIV testing laws. The Compendium is the only one of its kind. In retaining the document on this website, we hope it can serve both as background information and as an example of how to organize this type of information for those interested in doing independent research about more current information.

It is beyond the scope of the project to perform updates and verification of these laws. Some states' profiles have had more current revisions (see "Dates of Revision" on each document), but have not been thoroughly verified. We encourage readers to send updates (with citations when possible) and comments to Pau Crego at pau.crego@ucsf.edu.
For additional details:
About the Compendium 

Open PDF
Compendium Methodology

Open PDF
Dates of Revision

Open PDF
Pending Legislation

Open PDF
Use our map to navigate to your state
We also have information on Puerto Rico.
A
C
D
F
G
H
I
K
L
M
N
O
P
R
S
T
U
V
W