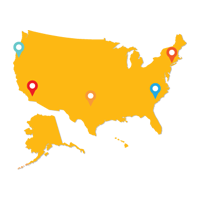 Our compendium summarizes legal guidelines for HIV testing. These laws and policies can vary from state to state. Use this overview to find the information for your practice.
The limitations of this resource
Our Compendium of State HIV Testing Laws summarizes and details key laws and policies relevant to HIV testing by state.  It is not within the scope of the project to provide continuous legal validation of all content; information for some states contained in this resource may not be current. We anticipate updating this resource in full in the first half of 2015.

We update the compendium periodically, but it is beyond the scope of the project to perform updates and verification of all laws for each state concurrent with all changes. Note that because of funding limitations, only one state (New York) has an updated and verified profile. Some states' profiles have had revisions (see "Dates of Revision") but have not been thoroughly verified. We encourage readers to send updates (with citations when possible) and comments to Halley Cornell at hcornell@nccc.ucsf.edu.
For additional details:
About the Compendium 

Open PDF
Compendium Methodology

Open PDF
Dates of Revision

Open PDF
Pending Legislation

Open PDF
Use our map to navigate to your state
We also have information on Puerto Rico.
A
C
D
F
G
H
I
K
L
M
N
O
P
R
S
T
U
V
W