National Women and Girls HIV/AIDS Awareness Day 2017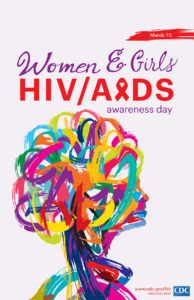 This year's National Women and Girls HIV/AIDS Awareness Day (NWGHAAD) theme, "The Best Defense is a Good Offense," reminds us of the importance of women's health initiatives in HIV treatment and prevention.
With over 280,000 women living with HIV and more than 7,000 new HIV diagnoses in 2015, HIV still significantly affects women and girls in the United States (CDC). While new HIV diagnoses among women have declined over the past decade overall, disparities related to race/ethnicity remain notable: in 2014, 60% of women (including transgender women) living with diagnosed HIV were Black/African American, compared to their white (17%) and Hispanic/Latina (17%) counterparts (CDC). Additionally, transgender women (especially Black/African American trans women) are one of the groups most highly impacted by HIV, yet accurate estimates of prevalence and incidence are still lacking in the literature due to inadequate data collection on gender identity. Tailored treatment and prevention efforts focused on the most affected subpopulations are crucial to address these disparities.
The Clinician Consultation Center supports treatment and prevention efforts for cisgender and transgender women on a daily basis. Our consultants advise on a wide range of clinical issues related to women's health, including epidemiology, prevention, comprehensive care, linkage to and adherence to treatment, managing post-exposure prophylaxis following sexual exposures, managing care of HIV-positive pregnant women and their infants, providing appropriate testing and follow-up testing, prescribing pre-exposure prophylaxis, and addressing substance use and mental health concerns among women and girls. All US-based clinicians are welcome to use our consultation services to receive expert guidance regarding their specific patients, general questions, and clinical dilemmas. You can also join our Reproductive ID HIV Listserv: a forum designed for providers to connect with peers, discuss challenging cases on HIV and other infectious diseases regarding women and children, and share tools and protocols. To join this listserv, contact Marliese Warren.
For more information, visit the National Women and Girls HIV/AIDS Awareness Day official website, AIDS.gov's roundup of stories, tools, and events, and the CDC's NWGHAAD page.