National Day of Action to End Violence Against Women Living with HIV 2016
The National Day of Action to End Violence Against Women Living with HIV, on October 23rd, serves as a reminder that complex medical conditions, such as HIV and substance use, are often connected to public health issues like trauma and violence. Ending the culture of violence is crucial to ending HIV transmission, HIV-related morbidity and mortality, and stigma.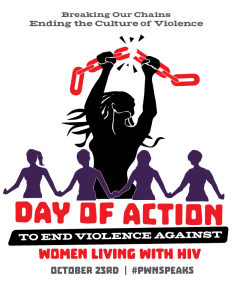 Violence can be both a risk factor for acquiring HIV, and a consequence of living with HIV. Women living with HIV (WLHIV) experience higher rates of sexual assault, intimate partner violence, childhood sexual abuse, and overall trauma, compared to the general population. In addition to interpersonal violence, WLHIV experience considerable community and institutional violence. Some women –women of color, young women, low-income women, and transgender women, among others– are especially vulnerable to trauma, violence, and acquiring HIV.
Trauma and violence affect HIV health care encounters, as recent experiences of abuse may lead to reduced care linkage and engagement in medical care, as well as challenges with medication adherence. To learn more and take action to end violence against women living with HIV, see the following resources:
The Clinician Consultation Center (CCC) supports efforts to raise awareness about issues impacting women living with, and at risk for, HIV. The CCC provides personalized guidance and unique resources to clinicians working to provide the best possible care for women at risk of acquiring HIV or living with HIV. To read more about our rapid expert consultation services, visit our site.