National Women and Girls HIV/AIDS Awareness Day: CCC Resources

The Clinician Consultation Center (CCC) continues to support efforts to raise awareness around HIV prevention and care issues as they affect women and girls. As a national service of the Health Resources and Services Administration's AIDS Education and Training Centers program, with support from the Centers for Disease Control and Prevention, the CCC provides personalized guidance and unique resources to clinicians working to provide the best possible care for women and girls who may be at risk of acquiring HIV or are living with HIV.
CCC consultants advise on a wide range of clinical issues related to women's health, including epidemiology, prevention, comprehensive care, linkage to and adherence to treatment, managing post-exposure prophylaxis following sexual exposures, managing care of HIV-positive pregnant women and their infants, providing appropriate testing and follow-up testing, and addressing substance use and mental health concerns among women and girls. We provide consultation on: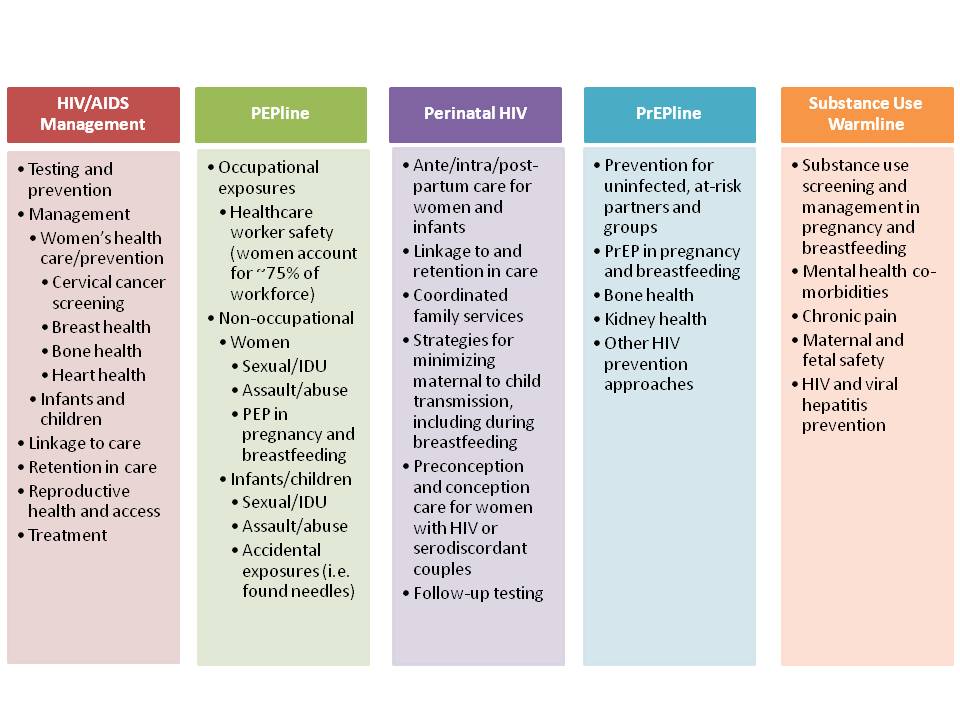 The CCC additionally supports clinicians with educational resources. These include:
Case of the Month write-ups pertaining to HIV prevention and treatment in women and girls:
• Opioid Use and HIV Management During Pregnancy
• Exposure Management: Labor and Delivery and Breastfeeding
• Considering PrEP for Sero-Discordant Couples
• Cervical Cancer Screening In HIV-Positive Women
• Pending HIV Test Results and Labor
• HIV Treatment in Sero-Discordant Couples
Unique CCC Resources and Discussions on women, girls, and HIV/AIDS:

• Reproductive ID HIV Listserv: a forum for providers to connect with their peers, discuss difficult perinatal HIV cases, and share tools and protocols. Contact Marliese Warren to join.
• Fourth Generation HIV Testing in Pregnancy | CCC FAQ
• Women and PrEP: Pregnancy, Breastfeeding, Implementation | CCC CROI 2013 Round Table
• Informed Choice Breastfeeding in a Resource-Rich Setting | CCC CROI 2012 discussion
• Informed Choice Breastfeeding in a Resource-Rich Setting | CCC CROI 2012 discussion slides
We also strive to connect you with useful resources from our partners. You can access more information on HIV treatment and prevention options for women and girls at the following links:
6th International Women and HIV Meeting, February, 2016 Resources
• Plenary Videos
• Discussion Abstracts
HRSA Resources
• Ryan White HIV/AIDS Program Women and Girls Resource Library
• Enhancing Access to HIV Care for Women of Color: practical information for providers to use to meet the unique needs of women.
• Guide to the Clinical Care of Women with HIV: tools for clinicians caring for women living with HIV.
AIDS Education and Training Center Resources
• Prevention of Mother-to-Child Transmission
• Women Who Have Sex With Men
• Women Who Have Sex With Women
UCSF Resources
• HIVE Project: Resources on sexual and reproductive health
Learn more about National Women and Girls HIV/AIDS Awareness Day, including what you can do to spread the word, at the official Awareness Day site.