PEP Tips: Laboratory Cadaver Exposures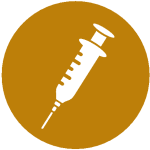 PEP Tips: Laboratory Cadaver Exposures
A treating clinician assessing the risk of transmission for a person stuck by an instrument while handling or studying a cadaver in a laboratory setting should first check for documentation of the cadaver's bloodborne pathogen (BBP) status. Organ procurement and transplant policy requires that all potential deceased organ donors are screened for HIV, hepatitis B, and hepatitis C. Medical schools also generally test laboratory cadavers for BBPs prior to student use. If a cadaver is HIV-negative, PEP is not recommended, and no baseline or follow-up testing for HIV is needed. If the cadaver is found to be HIV-positive, clinicians should seek expert consultation. HIV has been reported in certain body fluids (including blood) after storage at low temperatures for up to 16-17 days after death. Viable HIV has also been isolated from bone fragments and tissues at autopsy six days postmortem. Although fixative solutions appear to be effective against HIV under in vitro settings, it's not clear whether usual concentrations are also effective in cadavers. PEP is generally not recommended if the cadaver status is unknown, as side effects and potential toxicity from PEP likely outweighs benefit.
Resource: Mahajan A, Seema, Gandhi D. Human cadavers- review of infectious diseases. Int Journal Basic Applied Med Sciences. 2011 Sept-Dec. 1(1): 66-69.
Because CCC consultations are based on information provided by the caller or clinician accessing the online consultation center, without the benefit of a direct evaluation or examination of the patient, consultations are intended to be used as a guide. They do not constitute medical advice and are not to serve as a substitute for medical judgment.