PEP Tips: Follow-Up Testing One Year After an Exposure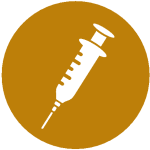 PEP Tips: Follow-Up Testing After One Year

There is only one scenario for which HIV antibody testing of the exposed patient is warranted at one year post exposure. If the exposed patient seroconverts to HCV Ab-positive and has sustained an exposure to a source patient who is known to be HIV-HCV co-infected, the exposed patient should continue HIV surveillance until one year after the exposure.
Because CCC consultations are based on information provided by the caller or clinician accessing the online consultation center, without the benefit of a direct evaluation or examination of the patient, consultations are intended to be used as a guide. They do not constitute medical advice and are not to serve as a substitute for medical judgment.