PEP Tips: Exposed Patient Testing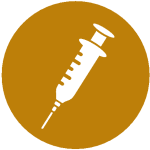 PEP Tip: Exposed Patient Testing
The 2013 CDC occupational guidelines state that when the source patient is HIV-positive or of unknown status, the testing of the exposed patient should consist of: HIV Ab test at baseline, 6 weeks, 12 weeks, and 24 weeks after an exposure.
If the clinician knows that a 4th generation HIV p24 antigen-HIV Ab test is available, testing can be done at baseline, 6 weeks, and 16 weeks.
Reference: Updated, U. S. (2001). Public Health Service guidelines for the management of occupational exposures to HBV, HCV, and HIV and recommendations for postexposure prophylaxis. MMWR Recomm Rep, 50(1), p. 883, Box 2.
Because CCC consultations are based on information provided by the caller or clinician accessing the online consultation center, without the benefit of a direct evaluation or examination of the patient, consultations are intended to be used as a guide. They do not constitute medical advice and are not to serve as a substitute for medical judgment.